As I may have mentioned, I live in East London. Bar the trendiness of Shoreditch (where recently a cat cafe opened up. and it has a six week waiting list.) there isn't much going on here except Whitechapel market (definitely not a 'must see') and fried chicken shops.
So when I saw that Foxcroft and Ginger was opening up next door, it was pretty much the highlight of my week (is that sad? yes). Unlike general 'to go to' places in London, which are largely based in Central and thus subject to serious space limitations, east London doesn't really have that problem. Once you get rid of a couple of seriously declining sports shops (fun fact: there are no womens sections in sports shops here!) and chicken shops that were definitely serving up poisoned pigeon, there is a lot of room to work with! This means one thing: no queues!!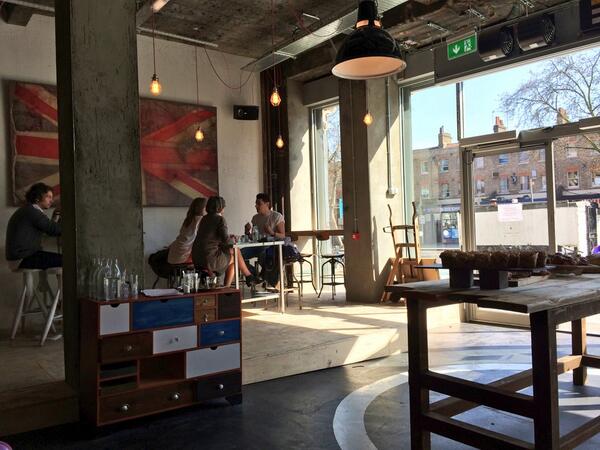 As you can see, there is a lot of space beautifully and naturally lit! They also have a very ambiguous upstairs section which I haven't ventured up to yet, but regardless, I am pretty sure that there will be a lack of depressing-standing-in-the-rain-crying queues here! They also don't rush you at all, providing the perfect place to go and study.
Ok. The FOOD.
I went with my friend when I saw their doors creak open for the first time, and we were a little bit too early for 'hot' food. Which left us with the devastating consolation of eating cake for breakfast! (being an adult is awesome). I can confirm to you all, that their cake is aaaaaaamazing.
My vain attempt of being healthy consists of eating carrot cake (any cake before 9 is practically negative calories as you aren't really awake right?)
Their coffee is also exceptionally good, which I have heard about. As a new joiner of coffee-society I haven't got enough background to tell you about the TaSteS and textures but I can tell you that it is good. (also, coffee is AMAZING in general - how have I only just properly discovered it!?)
We managed to resist these croissants.. but they lookin goooood. Everyday when I walk past Foxcroft to go to university, I inevitably see a ginormous table filled with cakes and croissants inviting me in.
They have now started serving proper food, hallelujah!! Their menu looks too good not to be! I was pleasantly suprised at a 'healthy' option of poached fruit with honey and yoghurt - it was amazing. A taste orgasm, so good that I think it probably tricked me and wasn't as healthy as I convinced myself it was.
A sort of sick circle, of being on a diet is wanting to not see any unhealthy food completely, to avoid temptation... but still wanting to know how it tastes. Still wanting to know how this FRENCH FRIED BRIOCHE HAM AND CHEESE SANDWICH WITH HONEY MUSTARD SAUCE tasted in the flesh. So when I go out for food nowadays with people, I generally force them to get amazing food whilst I steal snippets of it and moan about how I miss chocolate/pasta/creme eggs/sugar.
On this particular day I took Nicola for breakfast, and she is currently in study-hell. She gets quite stressed and this results in her losing her appetite (because she studies for 12 hours a day continuously!), therefore I generously helped her out and ate all of her breakfast when she couldn't deal with it.
Thus I can confirm that the aforementioned sandwich is INCREDIBLE. It is probably most comparable to bacon and maple syrup - something that should be savoury but is deliciously sweet. And so gurrd. I managed to control myself and left a bit on the plate. Then I went to the gym :((
Thank you for coming, Foxcroft and Ginger. We are going to be good friends <3